Depth of Feel
LEEDing The Way For Libraries In Hamilton.
What's one way to make a building green? (We're not talking about paint.) Make sure people can take the bus or ride their bike to it, instead of driving their car. Use renewable or recycled materials to construct the building. Reduce how much water and electricity the building uses.
Did you guess right?
Congratulations! You successfully answered your first question on the Valley Park Branch LEED Library scavenger hunt.
All of these things and more are part of the new Valley Park Library in Stoney Creek.
Earlier this year, the library relocated to a 26,500 square foot addition at the Valley Park Community Centre. This new space celebrates how libraries have evolved. People can sign out iPads along with their books, or get creative in the Makerspace, media recording room and study rooms. The library is designed to be flexible and ready for whatever the future holds.
Key to making Valley Park future-ready was making it as green as possible.
The City of Hamilton aimed to reduce Valley Park's carbon footprint by 40%. That's the highest greenhouse gas reduction target in the city to date. They are also pursuing LEED Gold certification, a mark of quality and achievement in sustainable building. Basically, they wanted Valley Park to be really, really environmentally friendly.
Integrated design firm mcCallumSather took things to the next level with a design targeting a 60% reduction in energy usage compared to a traditional building.
That's worth celebrating.
It's also an opportunity to educate people about sustainability. Librarians—and mcCallumSather for that matter—love helping people learn new things.
So we worked with the Hamilton Public Library and mcCallumSather to come up with a scavenger hunt. With prizes, of course. Naturally, we wanted it to be fun.
The scavenger hunt gets the whole family involved in the new library. It celebrates how environmentally friendly this facility is and teaches people how buildings can be more sustainable.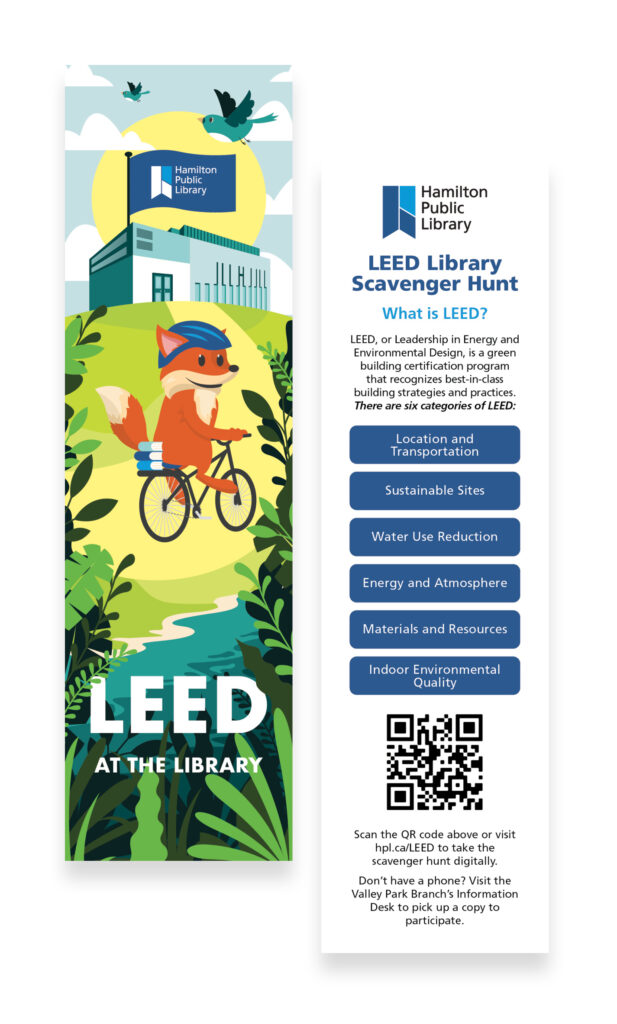 We gave people two ways to play: digital and paper. Playing online reduces waste (in-line with Valley Park's green ethos). Paper gives people another way to explore the space and its benefits. No matter how people choose to play, the fun starts at the library information desk. Participants are given a bookmark. Appropriate.
We designed the bookmark to show the six categories of LEED: location & transportation, sustainable site development, water savings, energy efficiency, materials selection and indoor environmental quality.
The bookmark also has a QR code which takes players directly to the scavenger hunt website. People scan the code with their phones and begin their search. If they choose the paper option, they're given a printout of the scavenger hunt list.
"The scavenger hunt engages and educates people about sustainab-ility in a fun creative way."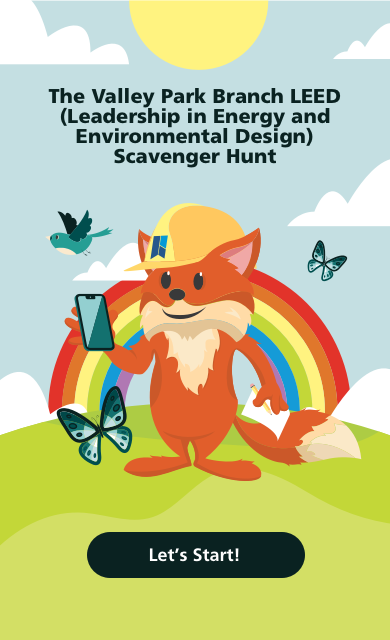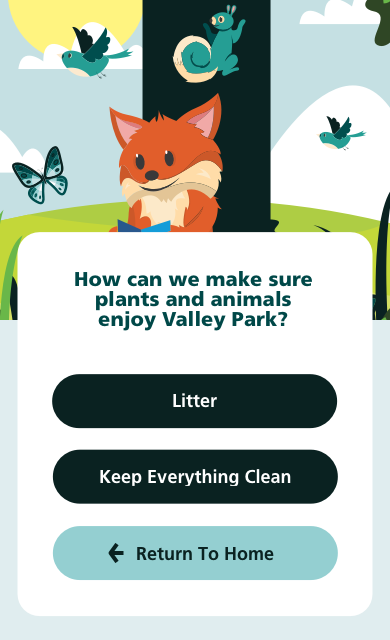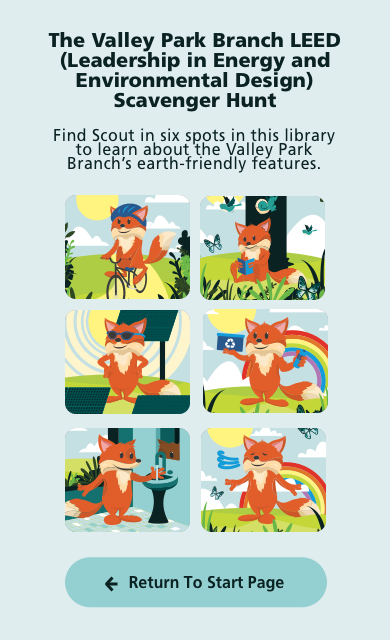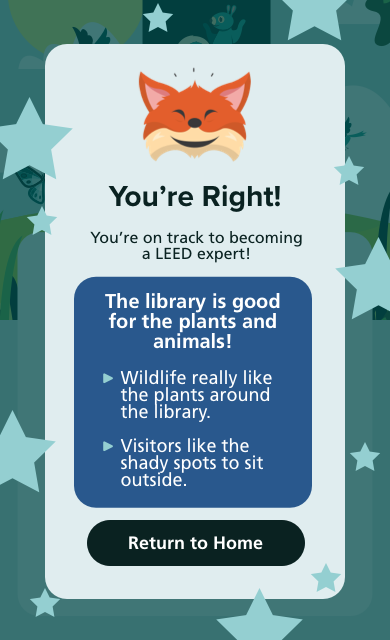 Valley Park is an example of how it's possible to create change.
Exploring the library, participants answer questions via either the website or on their paper. Signs give info about a category along with the question. Online, when players answer a question, a pop up appears to share another insight into sustainability, as well as a clue to the next question.
HPL's fox mascot, Scout, comes along to guide the hunt. Our designer, Sarah Bullard sketched and illustrated the cute canine in a variety of ways to show the different categories of LEED. Scout appears on the website, printouts, bookmarks and signage throughout the library. The graphics show him with solar panels, water-saving tips and other environmental features, to reinforce the sustainable message. Sarah was able to match Scout's familiar appearance so that children would engage with the friendly mascot.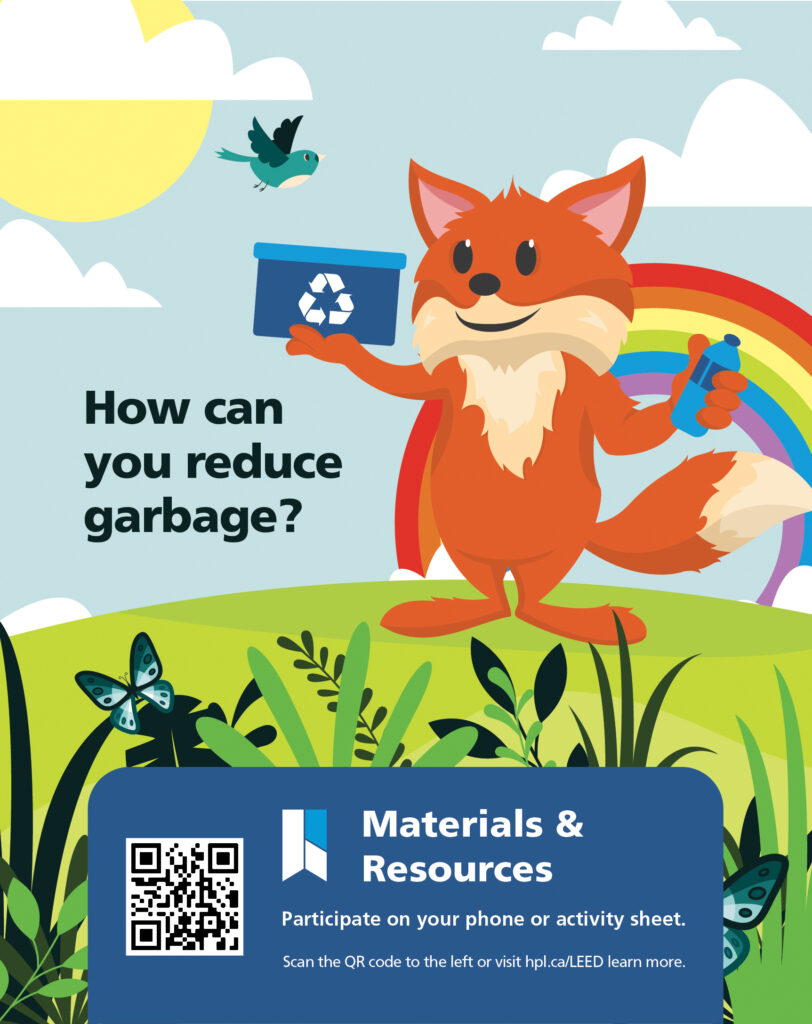 At the end of the hunt, players show a QR code or their completed paper to the librarian to receive a prize.
Prizes are another opportunity to reinforce the LEED categories. Children receive stickers and a sustainability-themed activity book with a word search, maze, connect the dots and colouring pages.
The scavenger hunt feels on-brand for Valley Park.
The community centre has always been a fun place. It's where people learn, play, work out and connect. But a lot has changed since it was built in the 1980s. We've gone from BETA and VHS to Netflix and Disney+. From phones attached to the wall to phones that are attached to us. Who knows what the next 40 years will bring?
The Hamilton Public Library wanted to make sure that Valley Park is ready to bring the fun, no matter what comes next. In reimagining the existing community centre, mcCallumSather created a facility that's designed to meet the needs of Stoney Creek now and in the future.
Seeing the evolution of Valley Park inspires us, and we want to do the same for library visitors in a fun, friendly way. The scavenger hunt educates users and gets them thinking about what they can do to help the environment in their own way. It's a change that will go far beyond this new library.
Who wants to change the world? We do.