HBSPCA
The Hamilton/Burlington SPCA (HBSPCA) is a not-for-profit animal welfare organization dedicated to keeping people and pets together.
Services
Strategy
Branding
Design
Copywriting
Photography
Social Media
Video
The HBSPCA relies on the goodwill of their donors (usually big-time animal lovers) to fund their mission of finding "forever homes" for every animal that comes into their care. We respect them deeply. They're doing exceptional work.
As animal lovers ourselves, we were inspired by the mission of HBSPCA. With our shared passion, we worked to create marketing and fundraising materials that would capture hearts and minds, and ultimately make a positive impact on the lives of animals in need.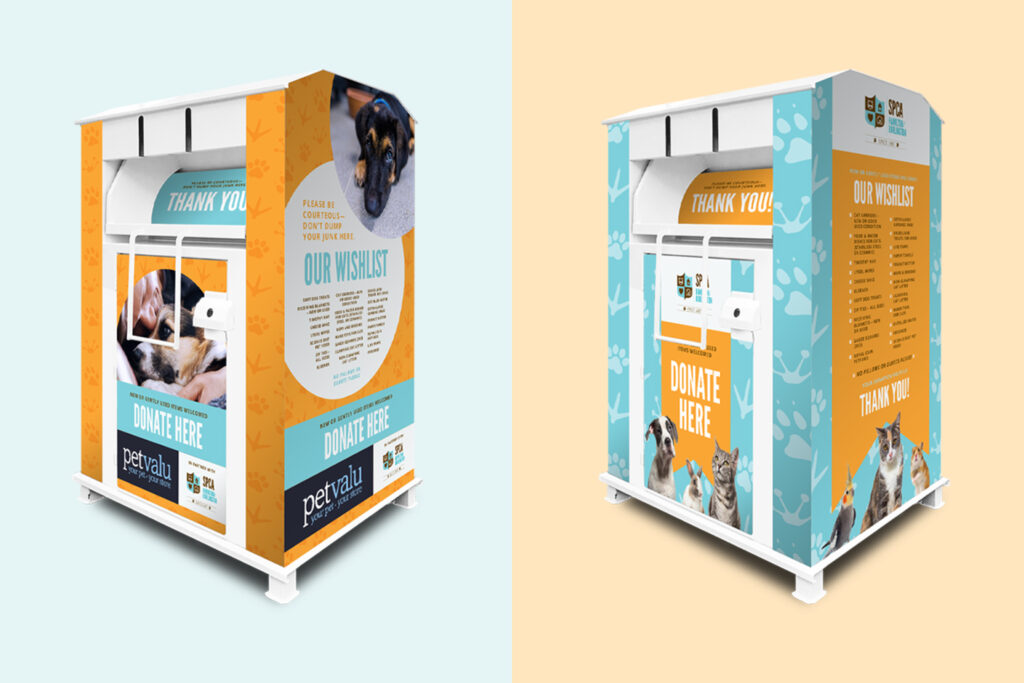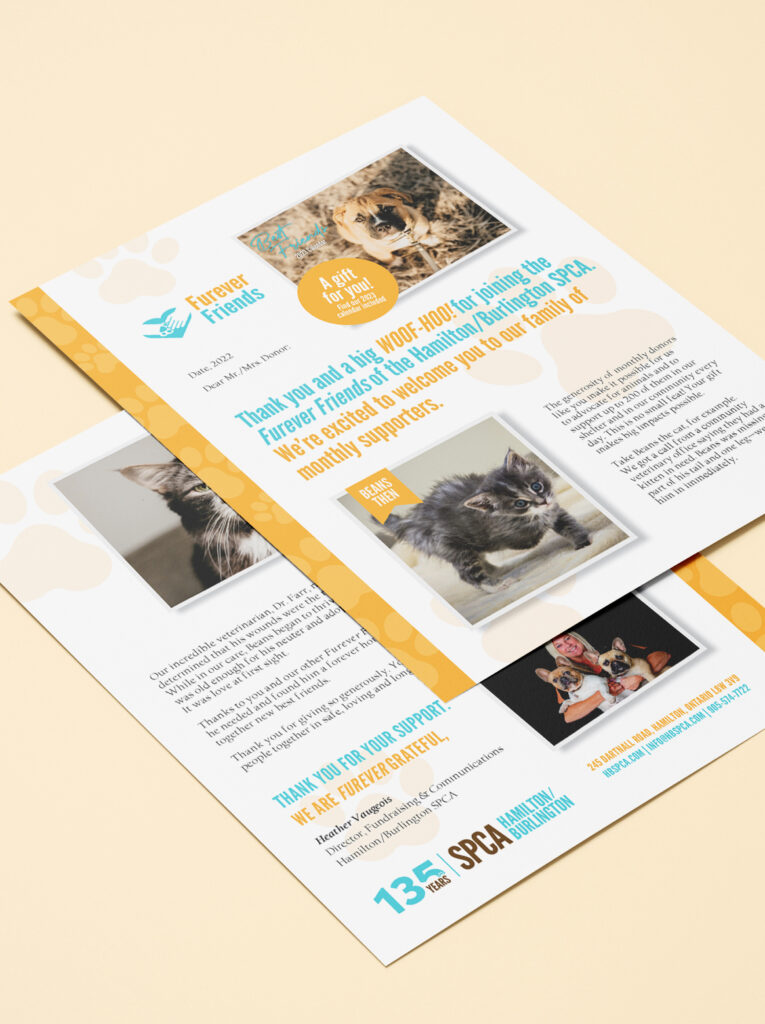 To effectively tell the stories of adopted animals and the impact of HBSPCA's work, we produced a series of compelling photos, fundraising materials and marketing pieces that showcased the resilience and joy of the animals under HBSPCA's care, all while conveying the importance of adoption and responsible pet ownership. Through heartwarming narratives and imagery, we aimed to connect with the target audience on an emotional level, encouraging empathy and support.
Central to our campaign was the development of a visually striking and emotionally resonant brand refresh for the HBSPCA's 150th anniversary. This brand identity would serve as the foundation for all campaign materials and communications, ensuring consistency and brand recognition across platforms. We designed business cards, donation bins, donor letters, t-shirts and even stickers! We also crafted an additional logo for their monthly donor group. This "Furever Friends" design represents the essence of compassion and care, incorporating elements that symbolize the bond between people and their pets.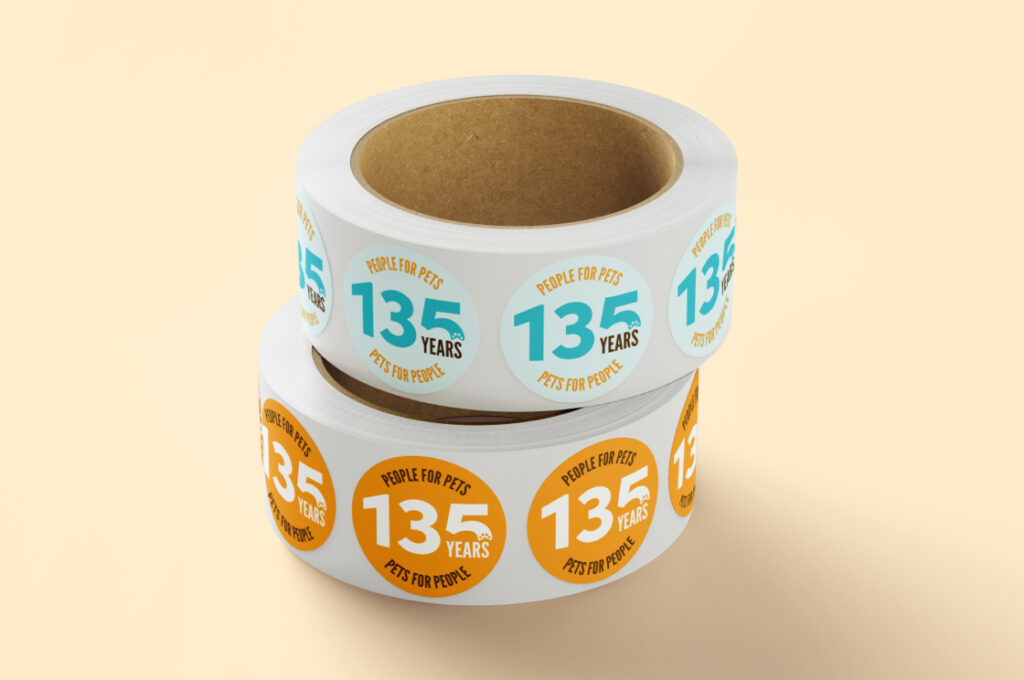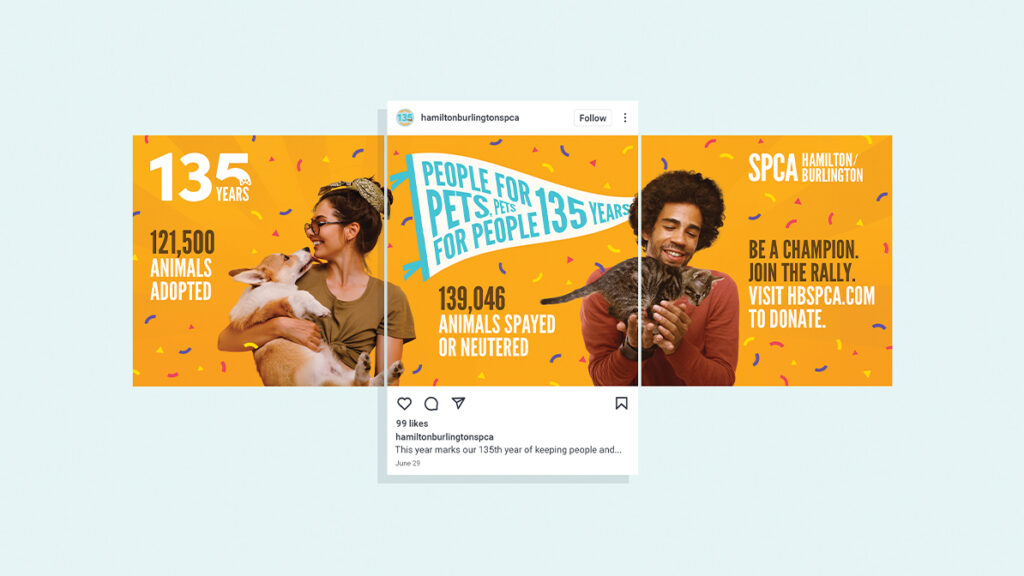 We also supplied the HBSPCA team with graphics and copy to amplify the campaign's reach online. Through social media content and email marketing, we sought to increase awareness and drive traffic to the HBSPCA's website. From there, our team developed monthly blog articles to provide valuable information to the community, sharing the HBSPCA's stories and establishing them as a trusted authority on animal welfare.
Our collaboration with the HBSPCA left us with pawsitively heartwarming results. We successfully raised awareness about the organization's vital work, generated donations, and most importantly, helped more animals find their forever homes.