Depth of Feel
Where Designer Runways Meet Runway Designers.
Imagine your office. If you're in it right now, great! Look around you. The flooring under your feet, the desk in front of you, the cabinets that hold your secret snack stash, and even the chair you sit on. Someone made them. They've been thoughtfully designed and carefully manufactured.
Commercial contract design is a diverse and substantial industry that includes offices, healthcare, hospitality, retail, education, public space and government. That's a lot of tables and chairs… and floors, lights, beds, desks, windows, wall coverings… oh and textiles, patterns, fibres and acoustics. The list of design elements and product categories is long. Every June, we remember just how expansive this sector is when we arrive at NeoCon, the most important event of the year for commercial design.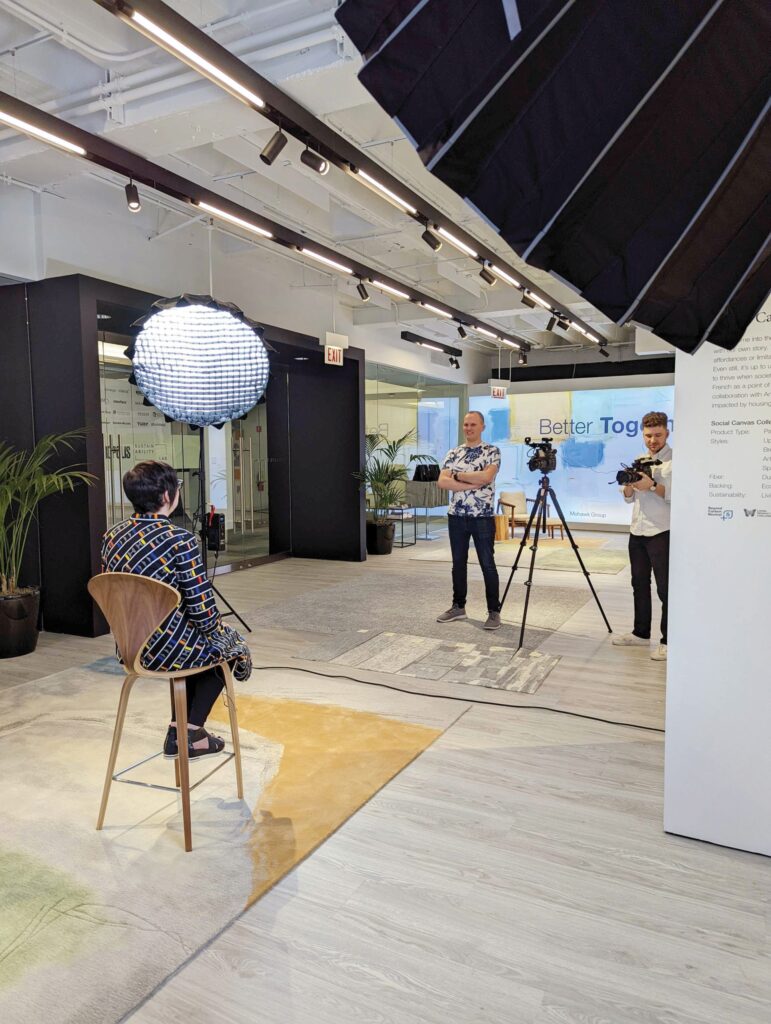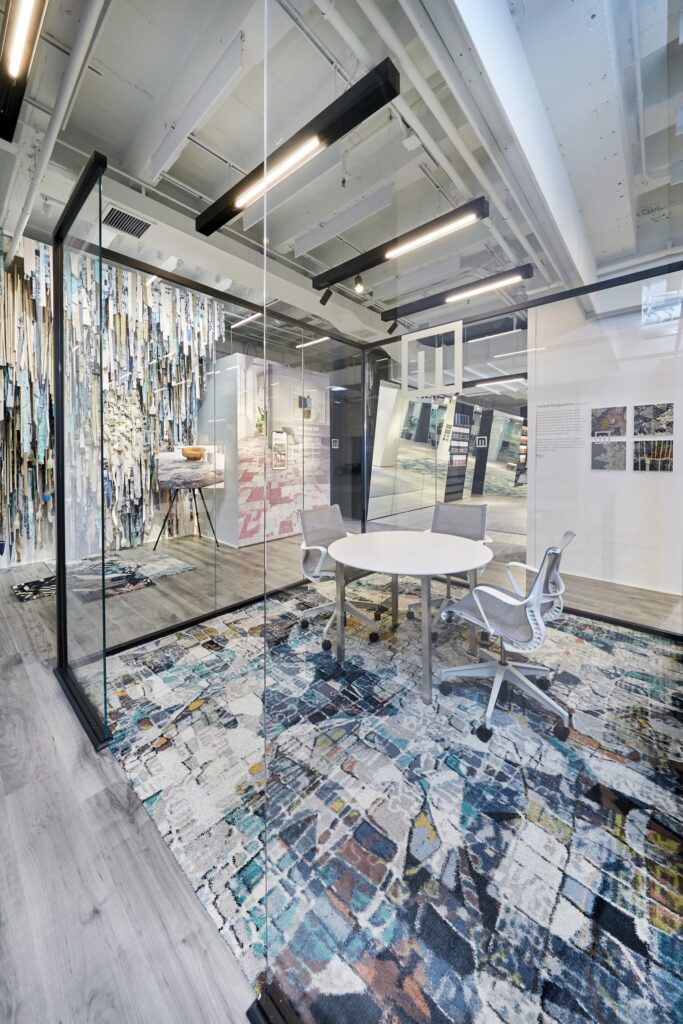 We're big fans of good design. So getting to be part of this three-day event is the best field trip ever.
NeoCon is an annual tradeshow that brings tens of thousands of people to Chicago. They fill nearly 1 million square feet of The Merchandise Mart (a beautiful art deco building overlooking the Chicago river) with furniture, fabrics, flooring, interior building products, interior finishes and technology.
And we're there every step of the way to document it for a number of our clients, including Mohawk Group, Spec Furniture and Krug.
"NeoCon taps into our expert skills in product photography and storytelling"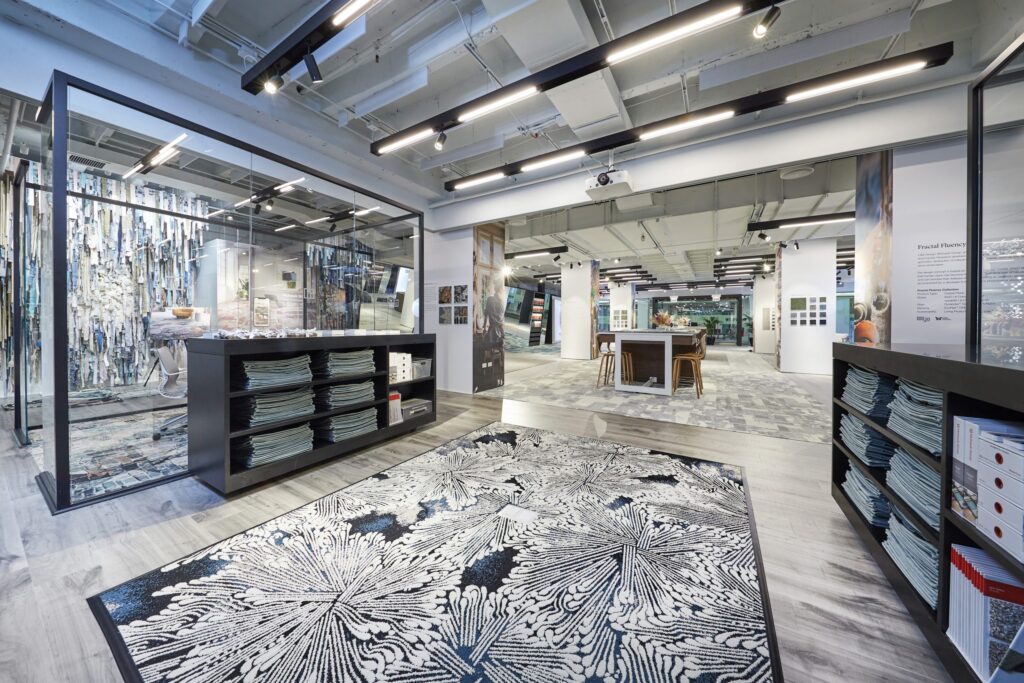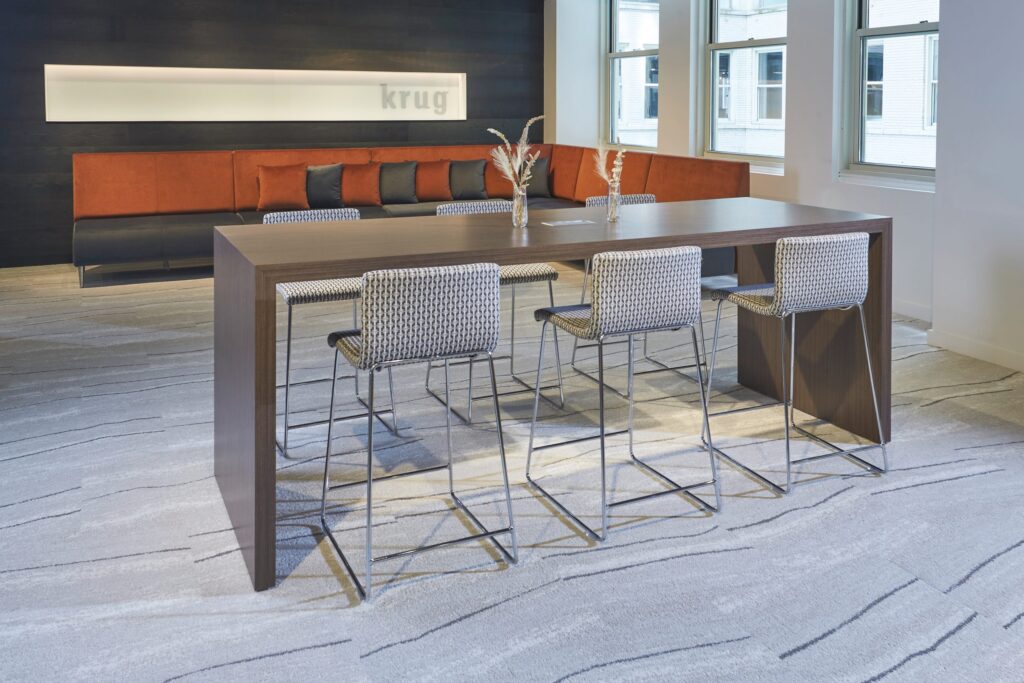 "It's such a massive event," says Dubravka Milinkovic, marketing manager for Spec Furniture. "When I try to describe it, I always say, "Imagine fashion week in Milan. That's it for fashion. This is it in furniture fashion." Everybody wants to be here. Everybody wants to see… Everything that's happening in the industry is happening over the course of these three days."
It's intense.
While it may feel like fashion week, there are no runways in sight. More than 400 leading companies and emerging players have showrooms, which they carefully design to celebrate all their newest products.
Our tier-one wow products are usually tied to NeoCon.
JACKIE DETTMAR, MOHAWK GROUP
"The permanent showrooms themselves are glass–paned, and the inside of each of them feels like a portal to a totally different space," says Taylor Wallace, our videographer. "Each company has its own take on the workplace, and looking around at them all is very inspiring and makes me think a bit differently about design."
Taylor and the rest of our team take photos and videos of all of the new collections, giving our clients a library of images and footage to use in their marketing for the rest of the year.
Krug, for example, is a Kitchener-Waterloo based case goods and furniture manufacturer that has a very distinct style, which requires a specific approach to their showroom coverage. Lauren Banas, VP of sales & marketing at Krug, has worked with our team for years to capture her vision and she knows that we deliver consistently.
"At first, Lauren would stay with us for the entire length of the assignment. These days she checks in with us for a few minutes at the start of the shoot to discuss any peculiarities, then she throws us the keys to the showroom and lets us do our thing," says Dan Banko, our creative director and principal photographer. "It's amazing to have that kind of trust in our relationship. By the time her plane gets her back to the Krug office in Texas, we have proofs in her inbox."
Our work with Spec includes product video production before NeoCon plus event capture and showroom photography at the show itself. We're flexible and adaptable for whatever they need. On some occasions, we even offer guidance on where to put their furniture as their showroom gets busier and more new products arrive each year. Add interior design to our resume.
For Mohawk Group, we create a variety of marketing materials. This includes writing, photography and design for printed and social media content. All of it is geared to tell the story of their newest flooring collections. We round this out with training and new product videos that introduce the collections to their sales reps and clients. This year we also developed content for a microsite. Thoughtful, integrated, multi-pronged marketing. Just the way we like it.
NeoCon taps into our expert skills in product photography and storytelling. We know how to zero in on the details that are most important. The craftsmanship, colour, texture, functionality, comfort, and quality. Whether it's furniture or flooring, a lot of thought goes into these products. An arm of a chair may be curved in a particular way so that you can easily move it without lifting. We capture that chair at just the right angle so that people can see what makes it special. We always find your good side, even if you're furniture.
Rita Halls, Spec's marketing coordinator, says, "Whether it's photography or video, it's important to know that whoever we're working with can tell the story that we want to portray."
"The requirements for product photography are very different than other forms of photography," says Milinkovic. "Whatever message we choose for the product, getting that exact message visually is what the Banko team does really well."
For commercial designers, NeoCon is the celebration of the year.
Design and manufacturing teams spend a year or more developing new products. Only the best of the best make it to NeoCon. "Our tier-one big launch products, the wow products, are usually tied to that NeoCon show," says Jackie Dettmar of Mohawk Group.
NeoCon is about the new. New products, new colours, new ideas. It's a transformation, evolution and celebration that our clients take every year, and we're happy to make the trip with them.