Depth of Feel
The hunt for sustainability.
If the word scavenger hunt makes you think of turning over rocks, reaching into crevices and peering around trees, let us introduce you to scavenger hunt 2.0. Our version of a scavenger hunt involves your phone, an app and some pretty cool coding. But it's still fun and educational.
When Valley Park opened last year, it was a modern, fresh, forward-looking reinterpretation of the 40-year-old community centre. Our clients, mcCallumSather, rethought every aspect of the facility—the way people enter, how different spaces connect, even the heating and plumbing. And they built a 26,500 square foot, environmentally friendly addition just for the library. It was definitely an upgrade.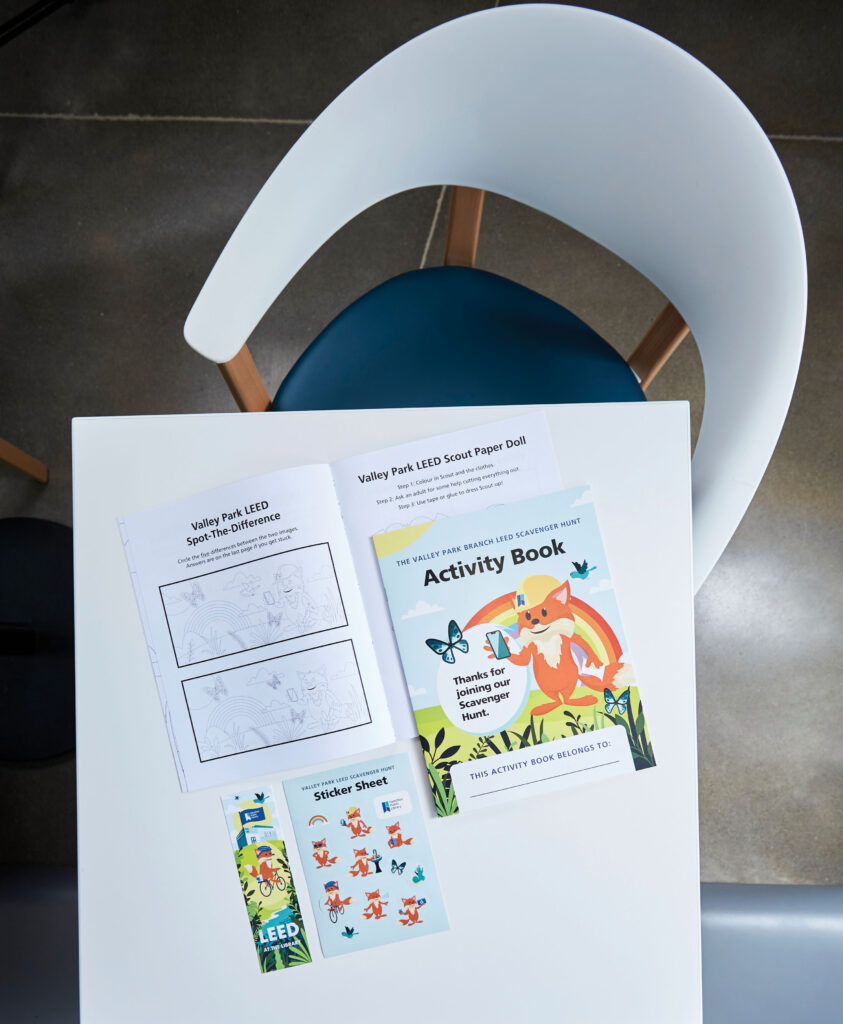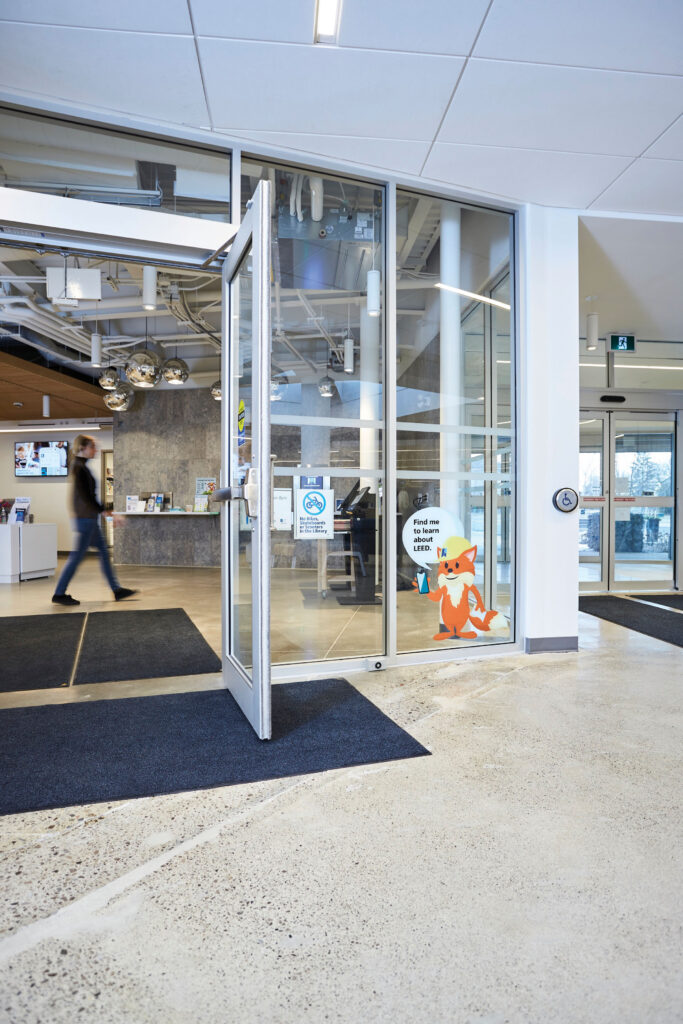 mcCallumSather and the Hamilton Public Library wanted to celebrate the new library and introduce it to the community.
They were also pursuing LEED Gold certification, a mark of just how sustainable the new building is. As part of the certification process, they had to include an educational component to teach people about the green measures included in the facility.
Enter the scavenger hunt.
"The scavenger hunt is something easy and enjoyable for a wide range of people and it engages and educates them about sustainability in a fun and creative way," says Sarah Bullard, our designer who worked on the project. "Each question goes into a different LEED category and gives the person interacting with the game an opportunity to learn more about it, the environment and its impact, all while exploring the library."
A webpage on the Hamilton Public Library site provides more information about LEED and links players to the scavenger hunt app.
"Make learning fun."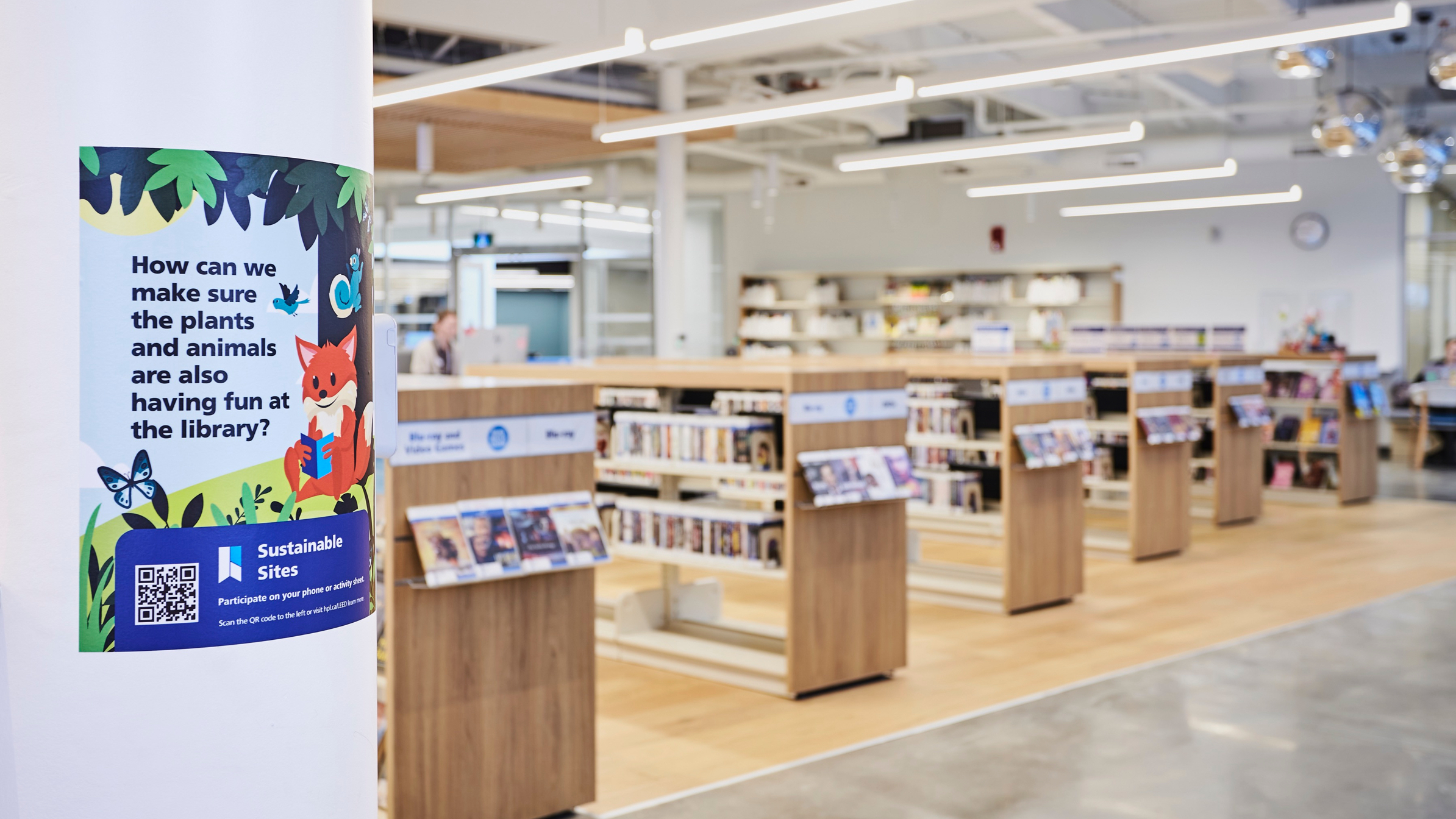 "Games need to be designed with a user- centric approach to ensure that they are enjoyable to play, challenging, and provide a sense of achievement or reward".
NICK TOMKIN, BANKO CREATIVE STUDIO
No turning over rocks here.
To start the game, people visit the library's reception desk and receive a bookmark that shows the six categories of LEED: location and transportation, sustainable site development, water savings, energy efficiency, materials selection and indoor environmental quality.
The bookmark has a QR code which takes players directly to the app. (There is also a paper option if people prefer.)
Players then move around Valley Park, finding posters that ask simple questions about LEED and give information about each category. What is the most earth-friendly way to get to Valley Park? How can you save electricity while reading? After answering a question, either on paper or in the app, the players move on to the next.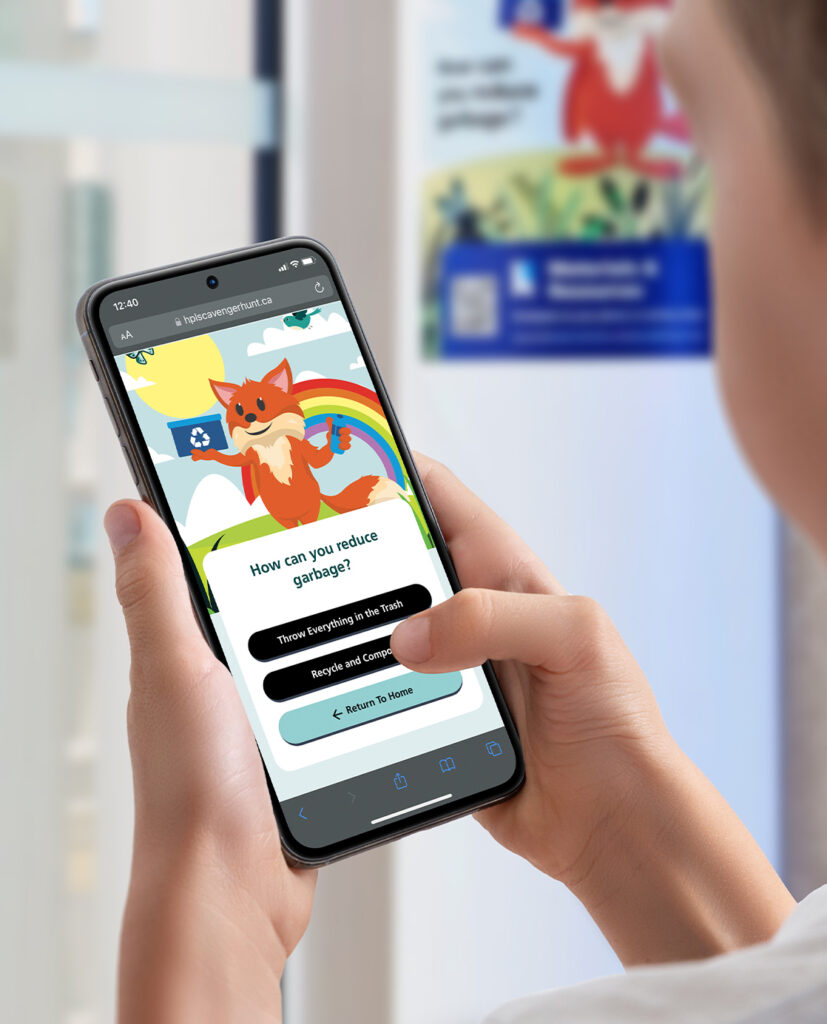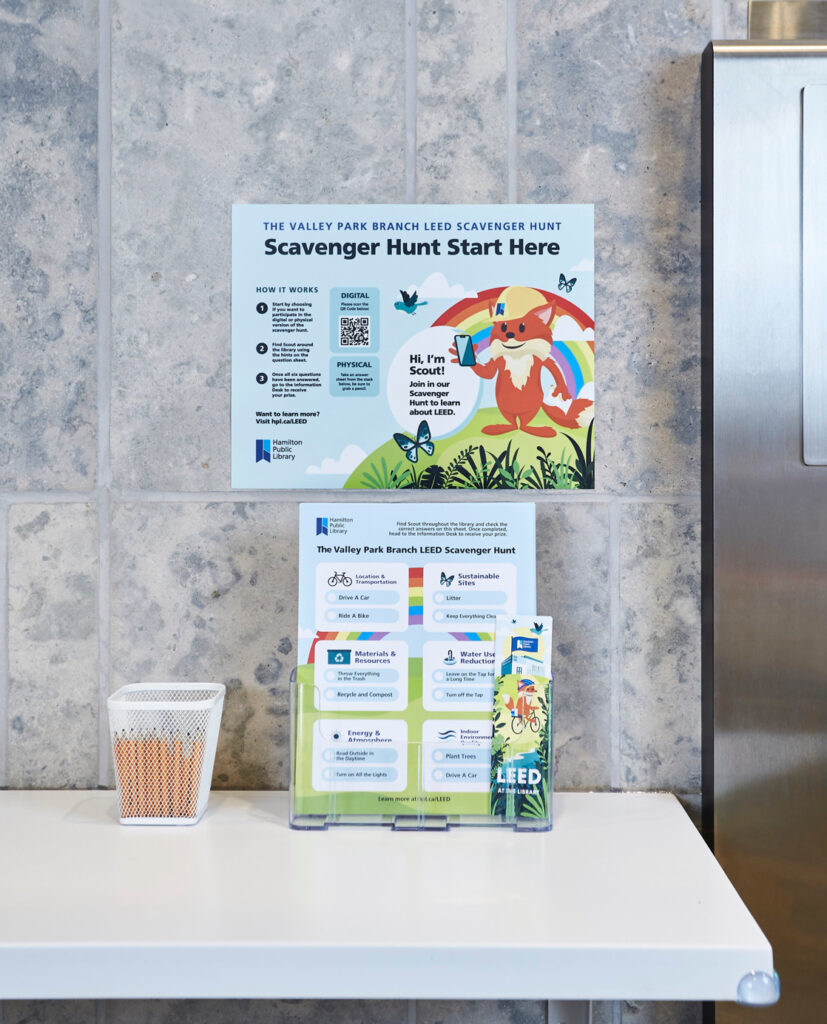 Nick Tomkin, our director of digital development, built the online version of the game.
"Creating a game is different from creating another type of website or app," he explains. "Games are typically more complex and interactive. They require a lot of programming and design work to create a compelling and immersive experience that keeps players engaged. The user experience is very important. Games need to be designed with a user-centric approach to ensure that they are enjoyable to play, challenging, and provide a sense of achievement or reward."
Developing a game often requires a designer and developer to work closely together, so that there is seamless integration between the visual and the architecture of the site.
For Valley Park, Sarah designed the layout and look of the hunt, while Nick took care of how it functioned. Together they created a mix of colours, sounds, animations, rewards, and social features to build a game that is not only fun to play but also educational and highly engaging for kids. Who doesn't love a round of applause?
Making sure the game is easy to use was key. Nick kept the game mechanics simple and used intuitive controls, like swiping and tapping. Immediate feedback—a starburst animation and clapping sound effects—let players know when they answer right. They also make the game more interactive, immersive and exciting.
Something else that helps to engage players is the library's fox mascot, Scout. Sarah used her illustration skills to make Scout part of the hunt. She sketched the cute canine with solar panels, water-saving taps and other environmental features to reinforce the sustainable message. Sarah was able to match Scout's familiar appearance so that kids could connect with the friendly mascot.
At the end of the hunt, players receive Scout stickers and a LEED-themed activity book (or if they're playing remotely, they can download the activity book themselves). Going virtual means that this environmental education is available to everyone, whether they visit the library or not—and is also part of the LEED certification process. The word search, maze, connect the dots and colouring pages are another opportunity to reinforce the LEED categories—and to inspire people to think about their impact on the earth.
Seeing the evolution of Valley Park inspired us. The building has changed, and it's creating more change in Stoney Creek and in people's lives. Technology—and scavenger hunts—have changed too. By developing this fun game we're educating visitors, connecting them with the library, and inspiring them to help the environment.
Who wants to change the world? We do.