Depth of Feel
That lake vibe feeling – over coffee
The pandemic changed things for a lot of people. For our team, it gave us a chance to expand in a completely new direction.
Coffee.

Okay, that's not new. #PoweredByCaffeine™
But running a coffee shop in Tiverton, Ontario? That is definitely new.
Tiverton is a quiet town on the shores of Lake Huron that we've visited, vacationed in and explored. Over the years, members of our team discovered the magic of Bruce County and Dan eventually bought an old schoolhouse to transform into a getaway. We decided we wanted to be a bigger part of the community, and a coffee shop felt like the perfect way to do that.
We wanted a spot to visit with neighbours. A space where friends could meet. A way to support local businesses and showcase local artists. Even a spot to work when our team wants a change of scene.
Dan and Tara found a cute little house, painted it blue, and Little Blue House Coffee Co. was born.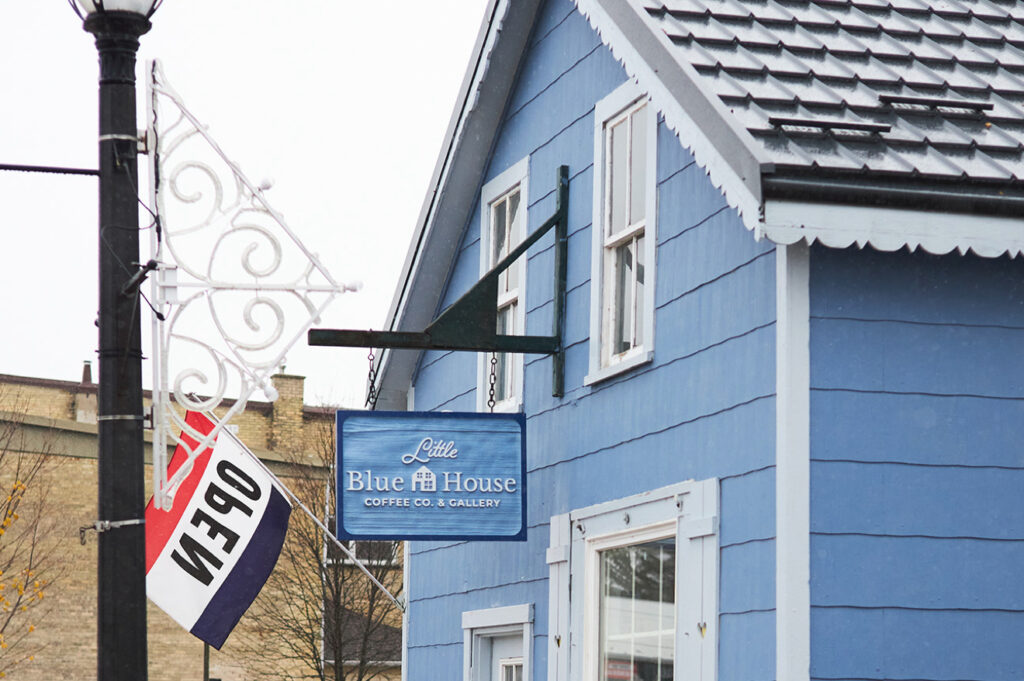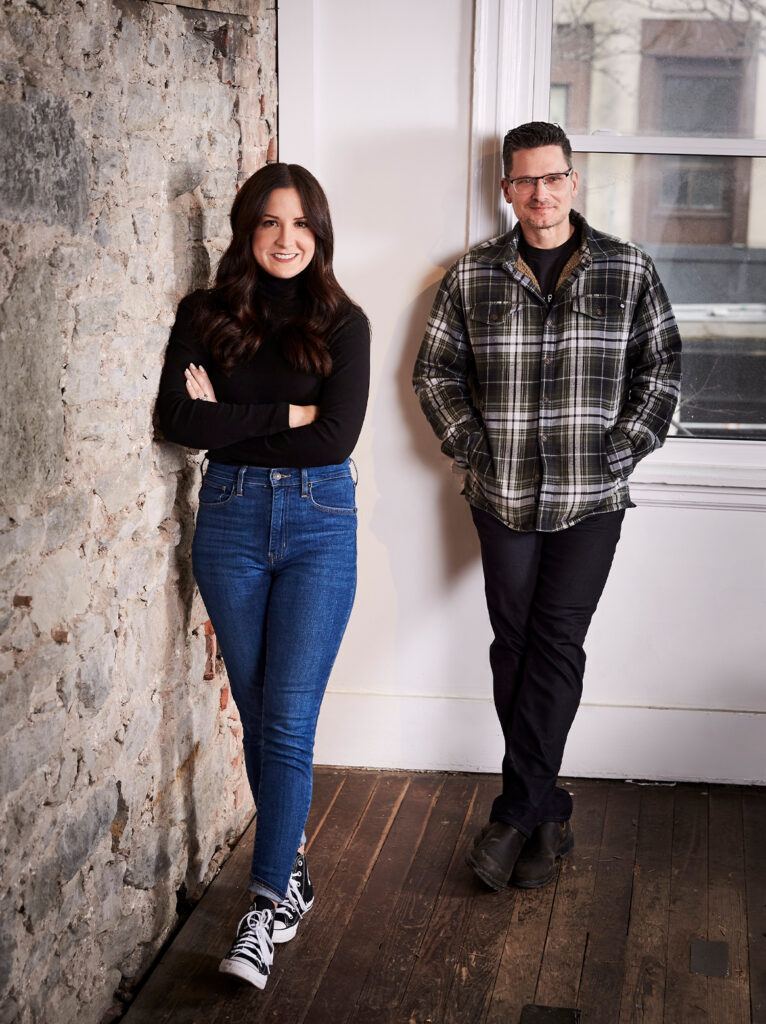 Well, after some cleaning, renovating, more painting, decorating, and, of course, branding.
We haven't changed completely.
We take our coffee—and our community— seriously. And we knew exactly what we were looking for.
Our coffee beans come from a regional micro-roastery located on the shores of Georgian Bay. Ironwood Coffee Company is socially conscious, sourcing high-quality and certified organic coffee beans from 100 percent farmer-owned fair trade co-operatives.
To go with the delicious coffee, we stock sweet treats made from local bakeries, Schultz Gone Totally Baked in Hanover and The Hive in Paisley.
Our little blue house is near the intersection of Highway 21 and Bruce County Road 15, smack dab between Kincardine and Port Elgin. We are minutes from Inverhuron Provincial Park and a short jog to the shore of Lake Huron.
My twins and I enjoyed a latte and a cookie… [It's] great to have a little spot in Tiverton we can enjoy.
ALLYSON MILLMAN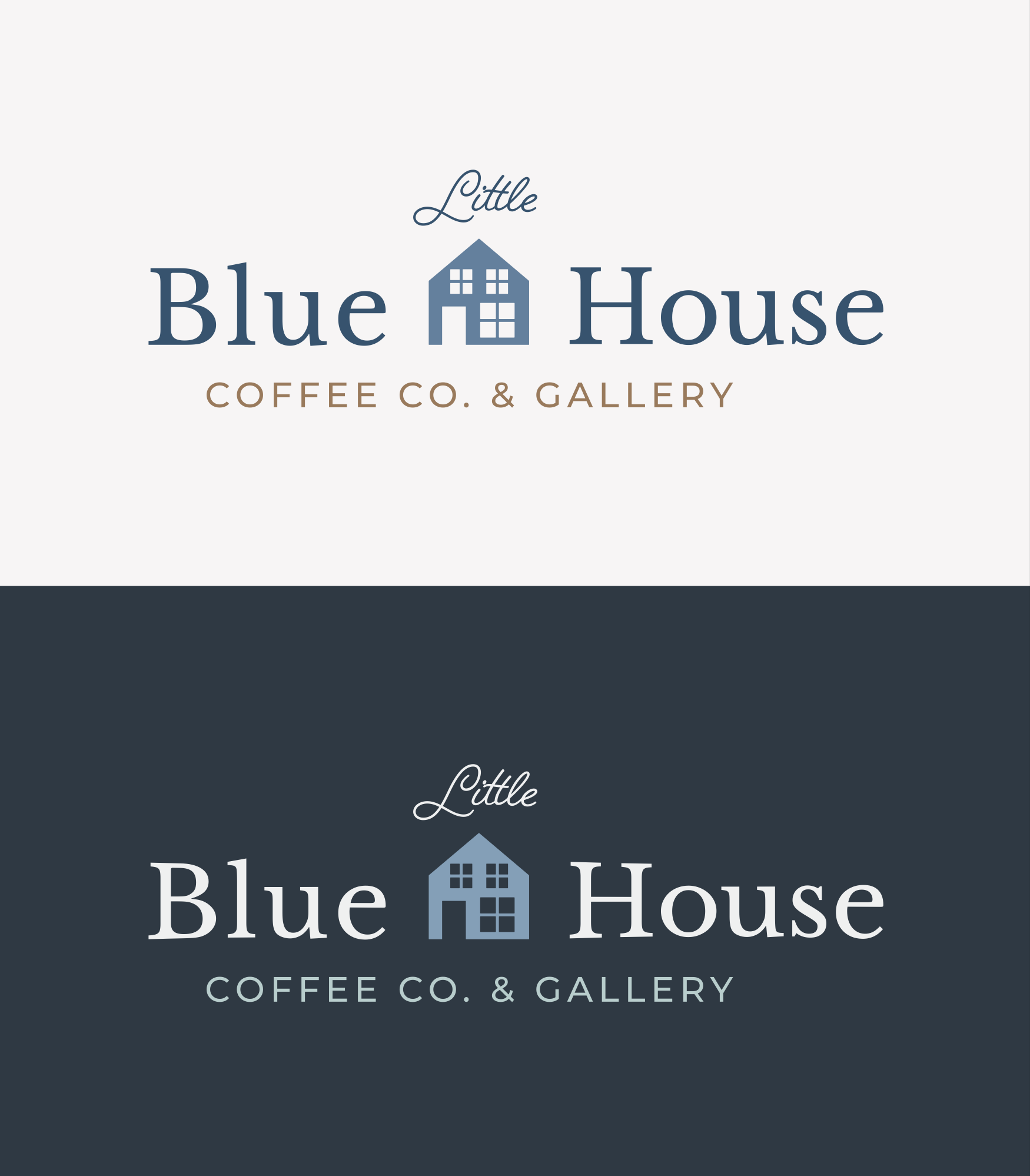 As for the space itself, the shop is bright and airy. People can settle on the comfy couch under the window, grab a cozy table to gab with friends, or spread out with a laptop at the large work table. There are books to read, art to admire and collectibles to browse.
Over the past year, it's been a pleasure to see our little space transform into the coffee shop of our dreams.
When it came time to tell people about it, we turned to our own team for help with branding, design and social media.
The brand for the coffee shop was inspired by its proximity to the lake. And we dove into that lake vibe feeling all the way.
Outside, the shop is painted a calming shade of blue. Inspired by Lake Huron's beautiful waters, the colour also makes the coffee shop easily recognizable. Calling ourselves Little Blue House was a no-brainer.
To complement that strong lake blue, designer Michelle Hayward came up with a colour palette inspired by the surrounding environment. Colours like the sandy beaches, crests of the waves, and, of course, a couple more shades of blue to capture the many hues of Lake Huron.
"My daughter and I… love the cozy seating, surrounded by books and artwork."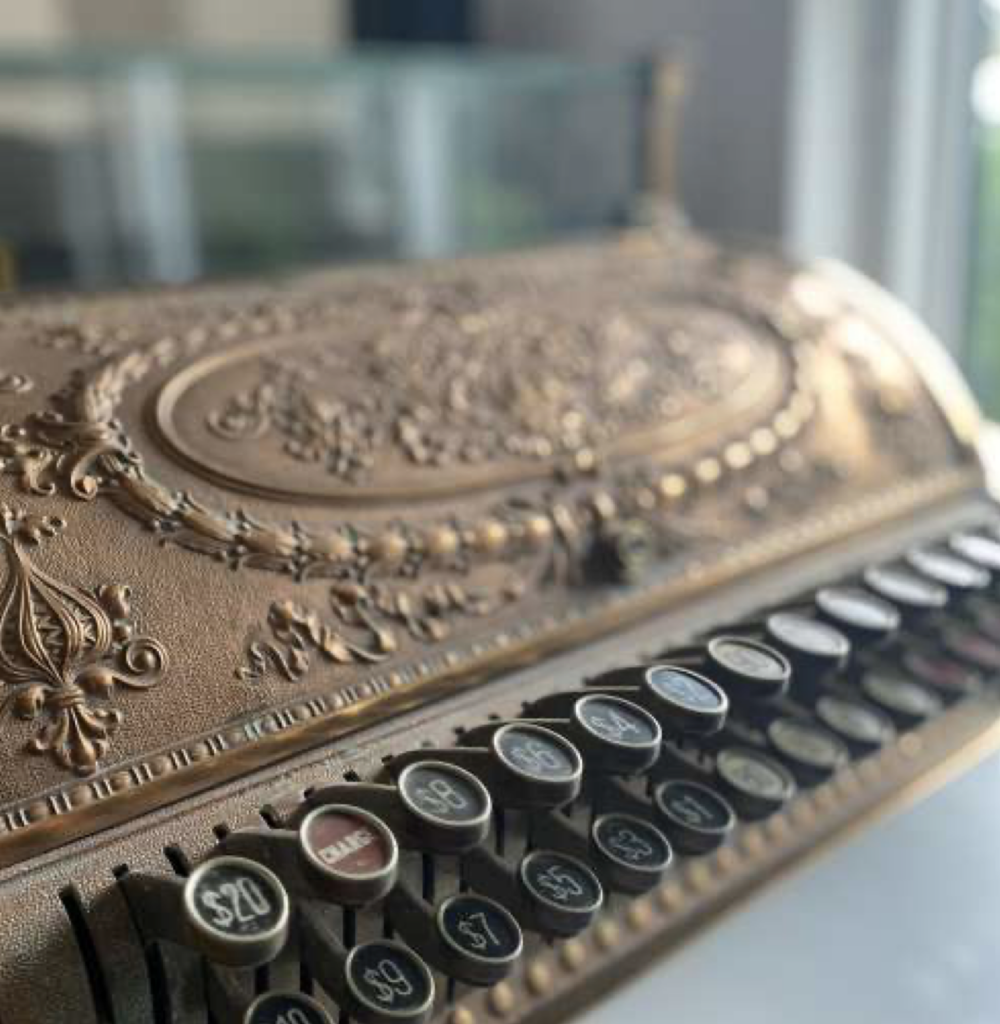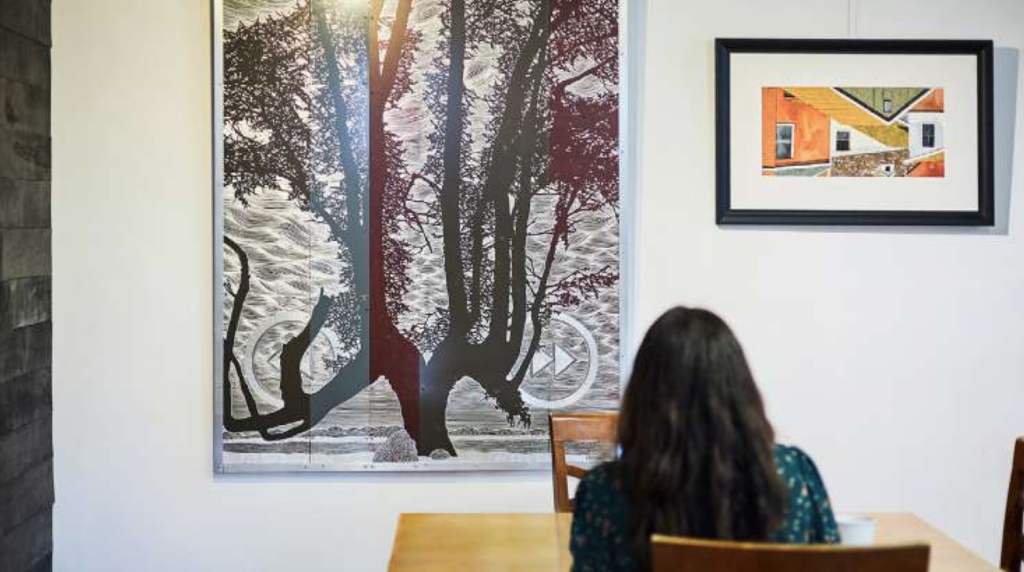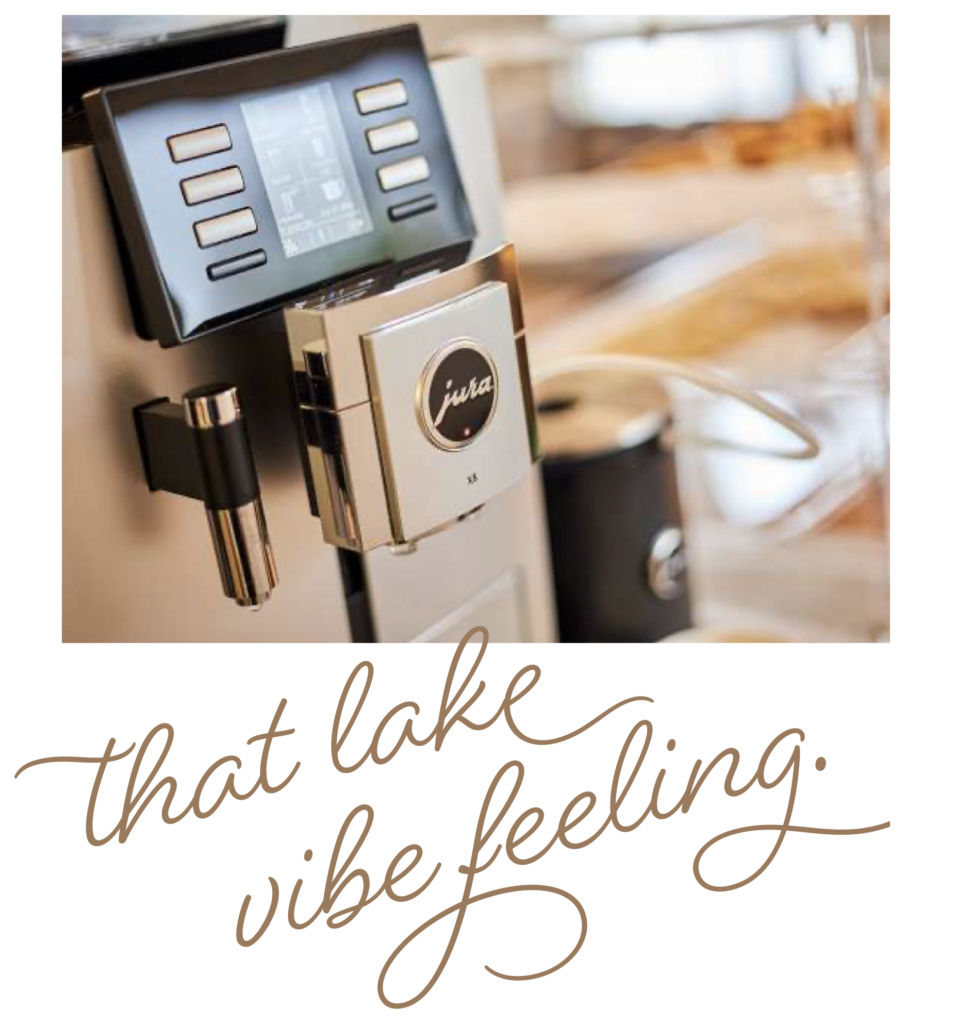 For the logo, we designed a simplified house illustration modelled from the existing building. We added the shop's name in a combination of three fonts: a playful script with extended swashes, an elegant contrasting serif, and a wide sans serif font.
A library of ever-growing design accents brings in the waves of the lake, the scallop trim of the Little Blue House roofline and the hearts of the window shutters.
From the start, we aimed for the coffee shop to be a community hub, and, since opening in November, Little Blue House has become exactly that.
"The sense of community was strong from the day we opened," says Tara. "Everyone is so excited for us to be here. The regulars who joined us on day one return every weekend. What the Little Blue House means to the community is truly special, and it's been very rewarding to be part of that."